What else could evoke natural health, youth, and freshness better than bright green? We know exactly the secret ingredient you need for a green beauty and health elixir that you will fall in love with – barley grass juice!
Young barley grass, freshly cut before it produces any seeds, is a rich source of numerous important compounds such as polyphenol (which makes it a great support for a healthy cardiovascular system) flavonoids, lignans, phytosterols, folate, gamma-aminobutyric acid, superoxide dismutase, essential amino acids, iron, potassium, calcium, tryptophan, chlorophyll, and vitamins A, B1, C, and E. And when you think it can't get any better, there's this: even though barley grass is a cereal, it doesn't contain gluten!
Barley Grass is one of the most nutrient rich foods in nature and has been used since ancient times for medicinal and healing purposes. – Medical Medium, Anthony Williams
Thanks to the high content of selenium, barley grass (or, green barley) is also great for skin and hair. It restores elasticity and suppleness of the skin, and contributes to strengthening the hair and nails.
As it contains plenty of minerals, barley grass also boosts bone health – making it a great support in maintaining the health of the bone and muscle system, and in fighting osteoporosis.
And what's really important about this food: it supports cellular functions responsible for preventing cancer!
If you are wondering how to benefit from barley grass, we have good news! There are many ways to include this amazing ingredient in your diet, and these are our favourites:
Fresh barley grass juice
Cold press juicing of fresh barley grass ensures the maximum nutrient delivery. Here is how to do it:
1. Use a high-quality juicer which is specially adapted for juicing greens and preserving the nutrients, such as the Omega MM900 Low Speed Masticating Juicer.
2. Wash the fresh ingredients to remove accumulated impurities.
3. Feed the juicer with small quantities of barley grass, and allow most of the juice to exit the juicer before putting more in.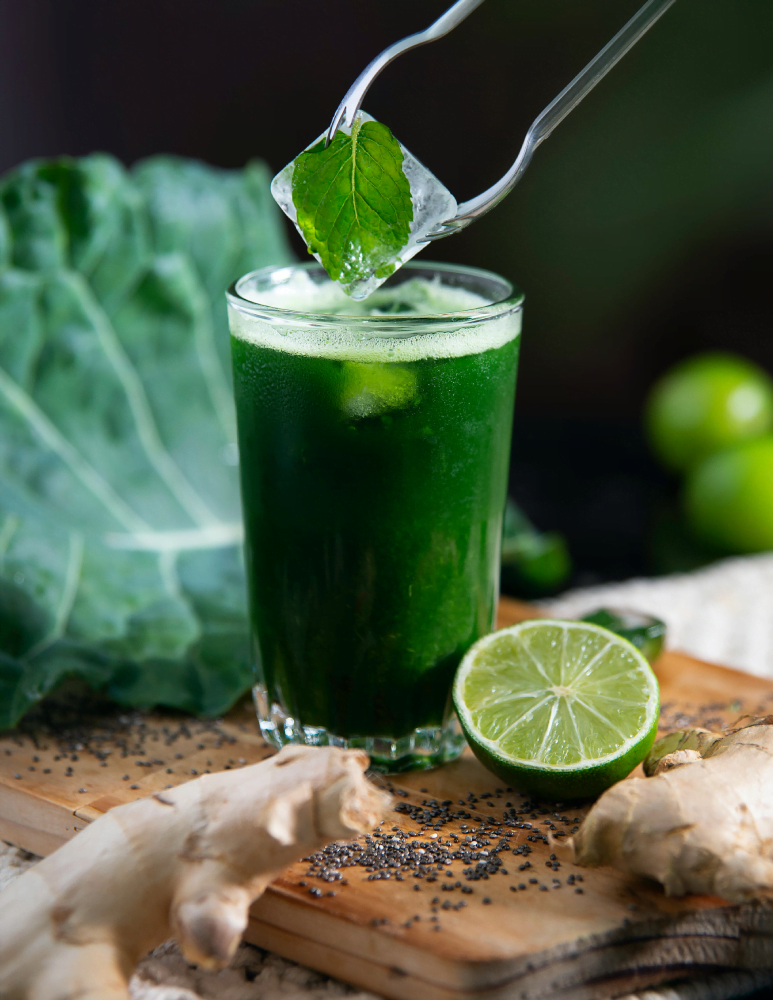 Some people might find the taste of barley grass juice too strong. In this case, you can add lemon, apple, ginger, carrots, and/or beets as a natural sweetener to dilute the taste of barley grass.
When juicing an ingredient for added flavour, insert that ingredient into the juicer during the first half of the juicing process. If inserted at the end of the process, the full taste may not come through.
You might think barley grass is not easy to find – and for most people, this is true. But growing it yourself is easier than you think! The bright green grass is aesthetically pleasant and will bring a fresh vibe to your garden or balcony.
Grow your barley grass with love in your next fun DIY project! For this, you'll need barley seeds, growing trays with holes for draining, and some soil enriched with organic fertiliser or compost. To help you, we've found step-by-step detailed instructions for growing barley grass for juicing on Cultures for Health.
Barley grass juice powder drinks
Barley grass juice powder is particularly potent, offering you the concentrated goodness of barley grass juice in a single scoop of powder, which can be easily added to create nutritional drinks in delicious combinations. What's more, this is one of the 5 main ingredients in the Heavy Metal Detox powders recommended by the Medical Medium!
Here are 5 delicious recipes for you to try:
1) A filling Banana Barley Grass Shake – perfect for breakfast, snacks, or any other meal.
Ingredients:
・1 ripe banana
・1 big or 2 small frozen bananas
・1 date
・2 tsp barley grass juice powder
・16 oz water
▻ How to prepare:
Blend all ingredients in a high-speed blender until smooth.
Tip: Add the water slowly until you reach the desired consistency. Pour into a glass and it's ready to serve!
2) Add Cherries to your banana and barley grass smoothie for extra flavour, colour, and antioxidants.
Ingredients:
・2 bananas, fresh or frozen
・1 date
・1 cup frozen cherries
・1 cup water or unsweetened coconut water
・1 teaspoon barley grass juice powder
▻ How to prepare:
Combine all ingredients in a high-speed blender and blend until smooth. Add the (coconut) water gradually until you obtain the desired consistency. Serve and enjoy!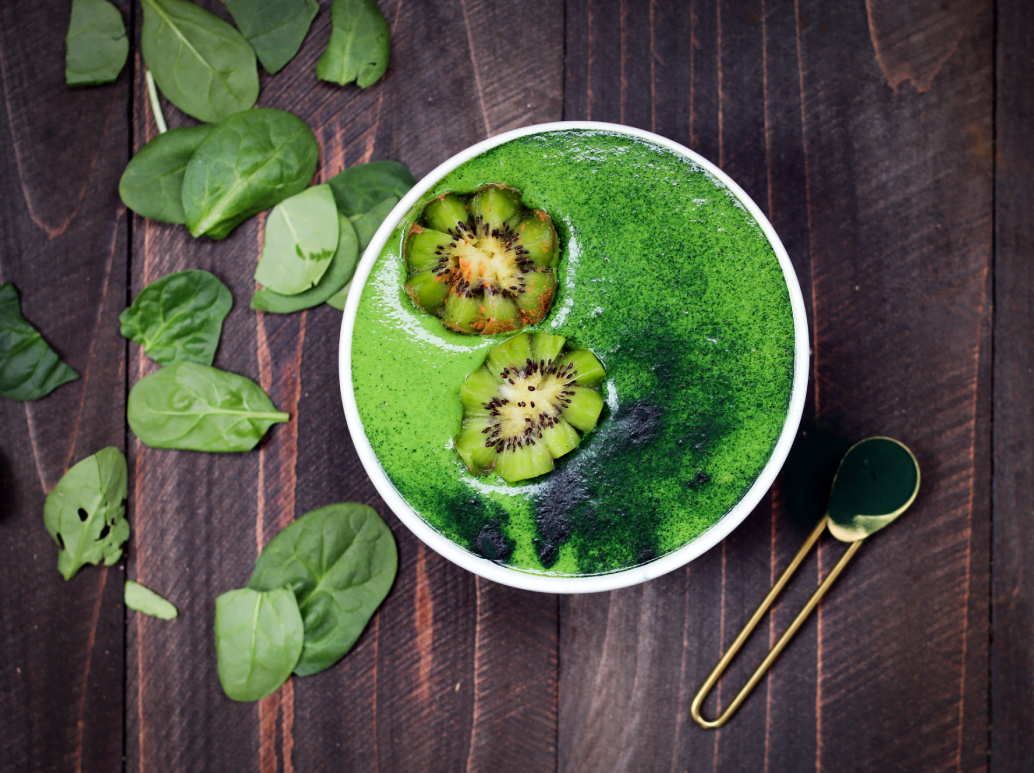 3) If you are craving more consistency, try the Banana-Kiwi Green Smoothie Bowl.
Ingredients:
・1 frozen banana
・2 fresh bananas
・4 kiwi fruit without skin
・juice of 1/2 lime
・1 tsp barley grass juice powder
・1 cup spinach
・1/2 to 1 cup water
Toppings for your smoothie bowl – choose your favourite:
・banana slices
・kiwi slices
・organic shredded coconut
・blueberries, or any other fruits you like 
▻ How to prepare:
Start by blending the spinach with 1/2 cup of water.
Add the rest of the ingredients into the blender and blend until smooth. For a thinner consistency, you can add in extra water while blending.
Add the toppings and it's ready to serve!
4) Sneak your daily portion of barley grass powder into this exotic Mango Mojito Smoothie.
Ingredients:
・2 cups frozen mango cubes (about 2 large mango cheeks)
・2 tsp barley grass juice powder
・Large handful of fresh mint
・3 tbsp fresh lime juice
・2 cups coconut water
・1-2 dates (optional for extra sweetness)
▻ How to prepare:
Add all the ingredients in a blender and blend until smooth. Serve immediately in order to avoid oxidation.
5) We also love this refreshing Green-a-Colada from Wellnesswithtaryn.com made with Pineapples.
Ingredients:
・1/2 banana, peeled and frozen overnight
・125 g fresh pineapple, frozen
・1/3 cup coconut milk
・2/3 cup (coconut) water
・1 tsp barley grass powder
▻ How to prepare:
Mix all the ingredients well in a high-speed blender.
Decorate with a fresh pineapple slice and enjoy!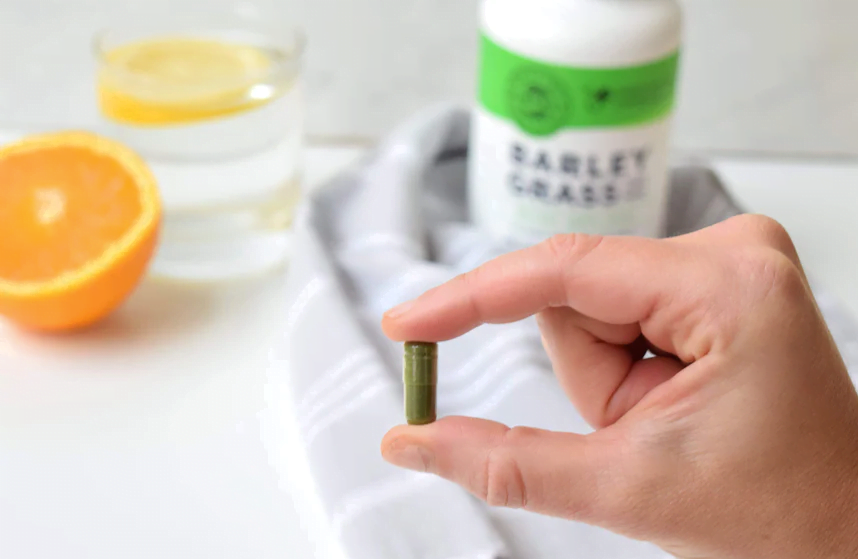 Even if you don't have the time or means to prepare your favourite barley grass smoothies, there's still a way to conveniently enjoy the many benefits of barley grass – it's available in the form of capsules! What's more, you can complete your health boost with the full Heavy Metal Detox Pack – Capsules – created especially for your dynamic lifestyle.
We strongly advise you to consult a medical specialist before taking any supplements, always consume supplements responsibly, and follow the recommended serving instructions.