Flowers have a strong impact on our lives and bring joy to everyday life, and often carry a message. Their meanings differ according to the occasion, country, and culture. However, there are also symbols that make part of the universal language of flowers.
How do we choose the right flowers to convey a bouquet of emotions?
Iulia Vlad – internationally certified florist – gives us suggestions full of charm and originality:
"There are no rules in creating a bouquet and expressing creativity, as long as there is harmony and emotion." – Iulia Vlad
Pura Fons: What was your first experience with floral arrangements and how did you discover this passion?
Iulia: The first contact with flowers was in the garden of my grandparents and parents, which was also my favourite "source of supply" for flower arrangements in the vases in the house. Grandma used to put geraniums and basil in vases, and my mother gladioli and roses. My family made sure we had flowers in the garden all year round, from spring to fall, so everywhere I looked I was surrounded by flowers.
I grew up with the idea that a house without flowers does not completely feel like "home", so I never miss an opportunity to beautify the rooms with flowers.
Technically speaking, two years ago I received a floristry course as a gift from my husband, who is a programmer but also loves flowers.It was clear to me that I had always loved flowers, but I wanted to find out if I could actually create something with them. After the first course, my creative spirit, curiosity, and perseverance were triggered and I discovered that, indeed, I can use flowers to create stories that resonate with those around me. This is how "A Flower Journey" came into being, the page where I lay out my journey in the world of flowers.
Pura Fons: At every occasion, your arrangements seem to tell a story – about elegance, tenderness, purity, vibrant energy, or the essence of an entire season. How do you choose your flowers? What are your preferences and criteria?
Iulia: We all want to be authentic and different. My desire, especially since I started to realise (and monetise) this hobby, was to always create something that I would like to receive.
Flowers should always be fresh, seasonal (as much as possible), they should match both the giver and recipient, and they should tell a story. I am curious by nature and I like to know the occasion for which I am making a particular arrangement, the profile of the person who will be surprised by it, and the floral preferences of the client. Then I let creativity speak. I have never created two identical arrangements, which reminds me that we humans are also different and unique.
Visually and olfactorily, flowers must delight you. I am the type of person who is impressed by the aesthetic side of a product and the attention to detail, and this is what I want to convey. 
I really like spring flowers, maybe because it's my favourite season. Pale, diaphanous, clean colours. But I also love strong, fall colours. Fire and sunset colours. I am also quite critical of myself, noticing any slightly crinkled petal or any asymmetry, no matter how small, and I anxiously await the moment when I deliver the arrangements. Fortunately (and I say this with gratitude), the reactions of those who have received my flowers have been beyond expectations. And this gives me courage and joy.
Pura Fons: There is a saying that "there are no weeds, only flowers that grow in the wrong place". Can you give us examples of plants you wouldn't normally expect to see in a bouquet, or unexpected combinations of plants that you like?
Iulia: Growing up in the village, I had the opportunity to learn the names of plants and flowers from a young age, to observe them, to feel them, to smell them, to choose my little favourites. I am inspired by nature and I am not afraid to introduce tree branches, rosehip or blackberry bunches, ivy, or aromatic plants from the garden in my creations. I also love the accents given by succulents in bouquets or arrangements. There are no rules in creating a bouquet and expressing creativity, as long as there is harmony and emotion.
Pura Fons: Which flower arrangement that you had created gave you the most satisfaction? Why was it special?
Iulia: I would say that the arrangement I prepared for the florist exam – with which I also obtained the international certification as a florist – made me very proud. It was my starting point, where I proved to myself that I am doing something good in this field. It was special because of the amount of emotions gathered in it and because I understood how much I like pastel flowers. At the same time, I really like to make floral boxes, which are also very requested and appreciated – these are always among my favourites.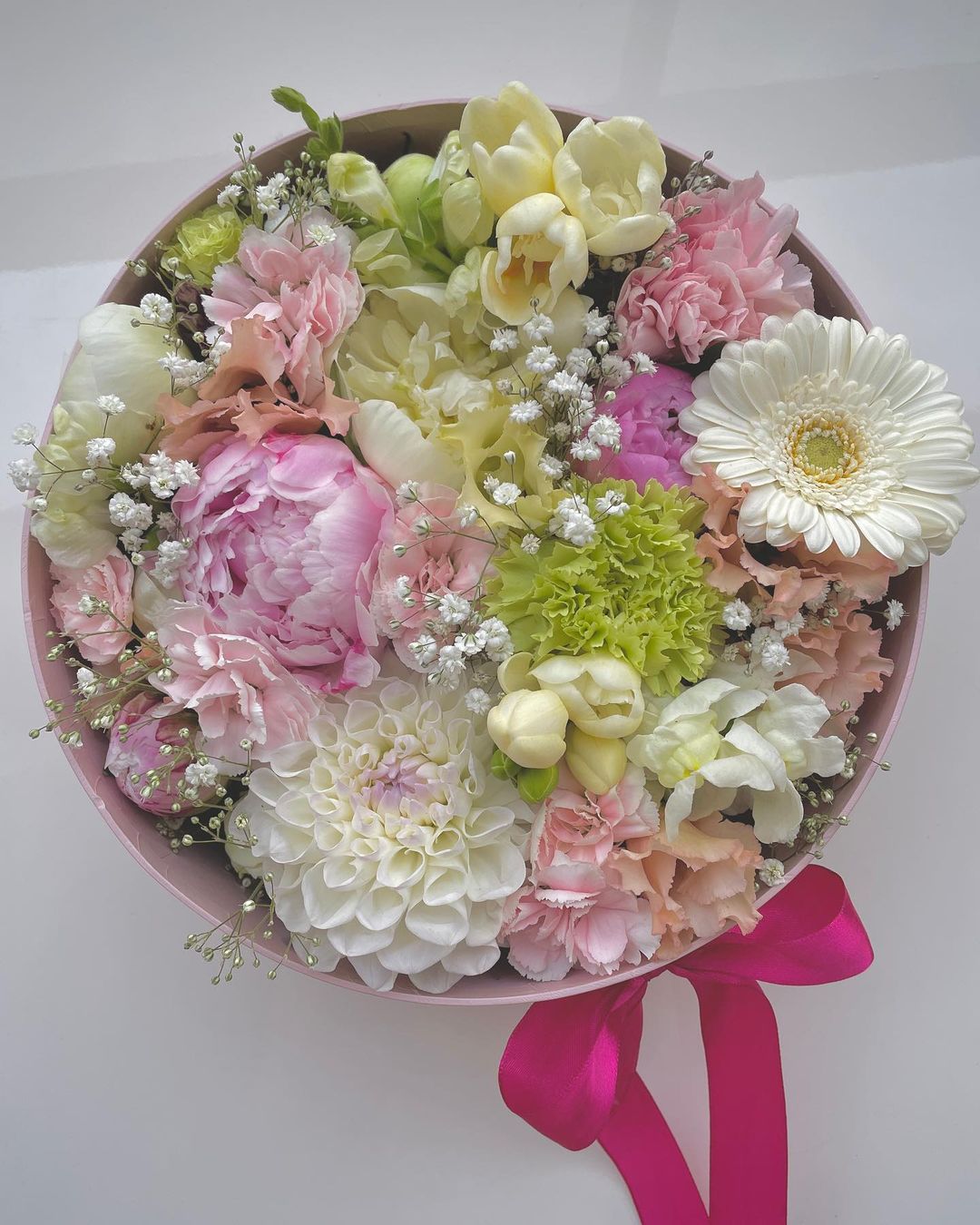 Pura Fons: There are many "unwritten rules" about flowers and their symbolism. Do you think there are certain rules that must be strictly followed?
Iulia: Personally, I am convinced that flowers have the value and symbolism that each of us gives them. I was able to incorporate less desirable flowers into arrangements that ended up looking great. To me, calla lilies symbolise elegance, for someone else they can mean sadness. I like carnations (I really like them a lot), while other people find them old fashioned.
The more open we are, the more we can see the potential and beauty of a flower. Of course, there are also people who are very strict about certain flowers and I respect this, which is why I adapt to their requirements and preferences.
Pura Fons: Red roses – the symbol of love. Truth or cliché? What other suggestions do you have for those who want to express their feelings with originality?
Iulia: Somehow, it is difficult to forget the old habit of associating the red rose with love. But it is not impossible.
I say that you can tell from the first impression if a man has good taste. There are people who are already lovers and connoisseurs of flowers, people who need guidance, and people who rely on my suggestions.
Of course, I am firmly convinced that there are many people who are very satisfied with a classic bouquet of greens and a few strands of classic flowers. In a world where "the intention is what counts", I would be happy if the intention had good taste, even on a low budget.
A first step would be to start educating ourselves more on flowers. For me, a bouquet of fragrant freesias or diaphanous ranunculus expresses just as much love, with an added touch of elegance.
Back to roses… If we remain fans of these flowers, it is worth remembering that there are so many fantastic varieties of fragrant roses, such as garden roses, O'Hara, or David Austin.
In other words, I encourage an inquisitive attitude to flowers and a return to simplicity. "Keep it simple" is a wise saying, which has proven to bring many benefits in any field.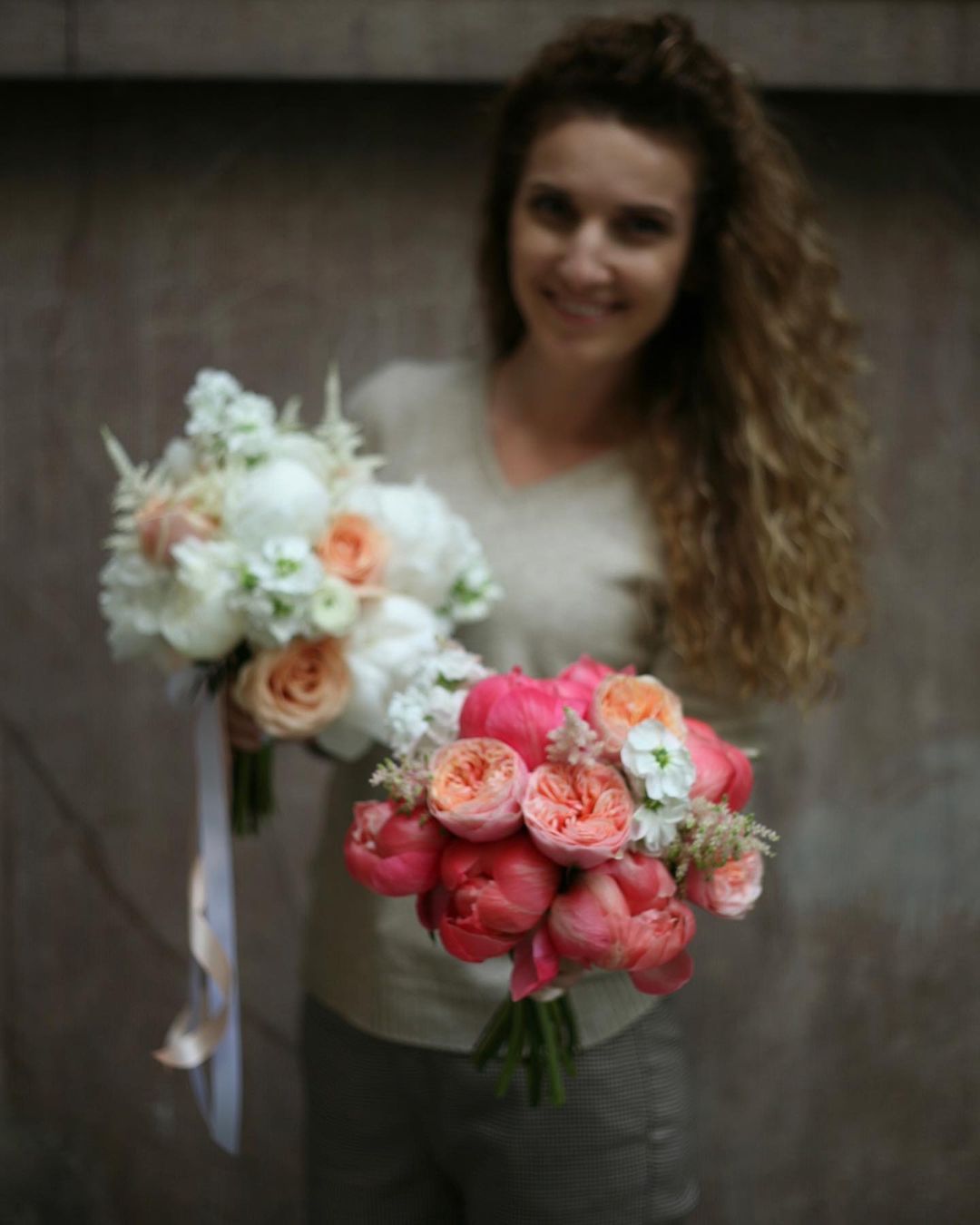 Pura Fons: Mother's Day is celebrated in some parts of the world on the second Sunday in May – so this year on May 14. It is a reason to celebrate, and a bouquet would surely bring a smile to mothers out there. What suggestions could you give us?
Iulia: For mothers (and even beyond): fragrant and necessarily pastel flowers: pale pink, white, cream, lilac, blue. Packaging should be as natural as possible, or no packaging at all. Nature is beautiful as it is, right? Beauty and naturalness are somehow synonymous.
Mixed bouquets are beautiful, but you can't go wrong with a single variety bouquet. Simple, but always spectacular, especially since it is offered with love.
Pura Fons: What plans or projects do you have in mind for the future?
Iulia: I like people, so I want to meet them, and share my experience and love for flowers. Therefore I think that various workshops, both for adults and children, would be appreciated. At the same time, I want to participate in – and decorate with my flowers – as many events as possible. It is a field in which you discover yourself with every flower that passes through your hands, therefore continuous improvement is necessary.
At the same time, I aim to keep the family tradition and plant flowers in my own garden to use in my arrangements, for an even more personal touch. And maybe, one day even organise a flower workshop in my orchard.
I believe in the beauty of dreams, and I think that working and aspiring for something in the future is often even more fulfilling than the achievement itself.