Easter is one of the most important holidays of the year and a wonderful time to get together and celebrate with family and friends around a table full of traditional dishes. We put time, energy, and love in special recipes that we prepare and serve for this occasion. And we all especially look forward to the dessert – the perfect ending to the Easter meal!
Do you know anyone who says "no" to dessert? Nearly no one does! So why not use this opportunity to introduce more fruits to your diet! One of the numerous benefits is that thanks to the natural sweetness of fruits, you can reduce the amount of sugar added. Want an even healthier dessert? Try to replace dairy with plant-based ingredients and opt for gluten-free flours – this will guarantee the result will be delightful and healthy!
Did you know that you can use a variety of healthy substitutes for some common ingredients without compromising the taste of the final product? On the contrary, you and your guests will be surprised to discover that the lighter alternatives, packed with nutrients as well as flavour, are tasty and will also make you feel better. Here are some tips:
Flaxseed
— Replaces fats such as butter or oil and gives the bake an appealing brown colour.
— Mix ground flaxseeds with a little water to obtain a gel that can replace eggs and give the desired consistency to your cake.
— Main benefits: contains magnesium, iron, vitamin B-6, fibres, and fatty acids.
Coconut milk/oil
— Replaces dairy products such as milk and cream.
— Chill overnight and whip with a mixer to obtain whipped cream.
— Main benefits: increases metabolism, lowers "bad" cholesterol and increases "good" cholesterol, a source of healthy fats.
Tapioca flour
— Starchy, gluten-free flour, perfect for dough and thickening sauces.
— Rich in iron, calcium for strong bones and non-saturated fats for a healthy heart.
Applesauce
— Replaces wet ingredients such as oil or milk, adding natural sweetness and acidity.
— Low calories, low glycemic index, high in vitamin C.
Coconut sugar
— A healthier variation of sugar, reduces risk of blood sugar spikes, and is less harmful in cases of diabetes.
Use these ingredients to make a versatile pie crust as recommended by the Medical Medium, Anthony William: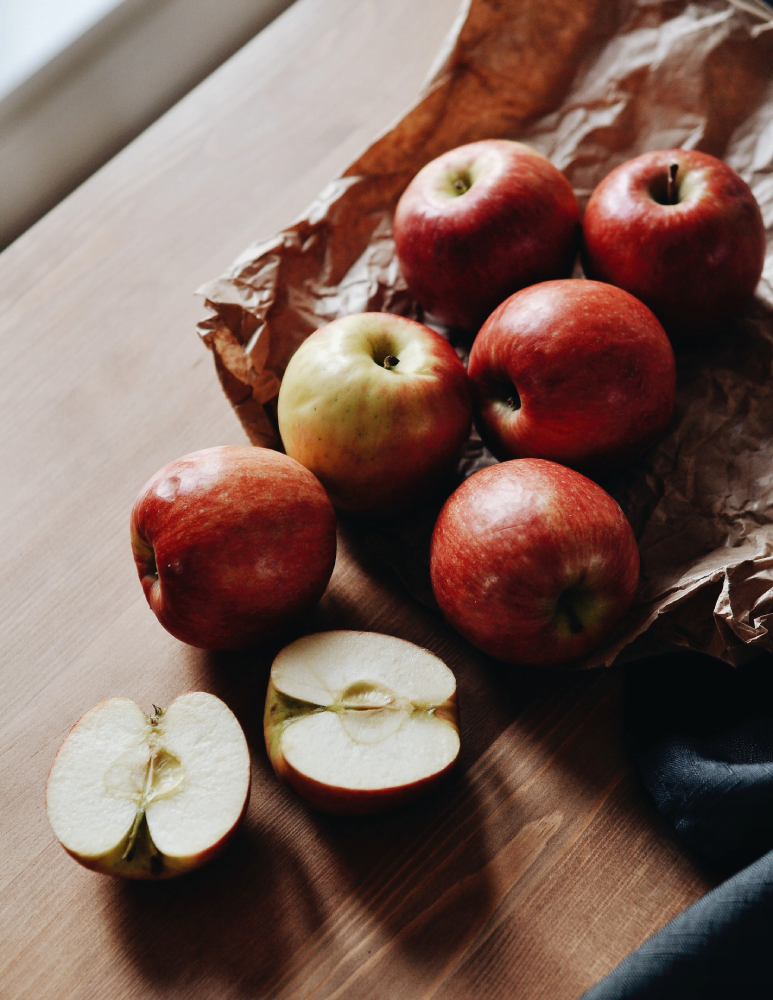 Ingredients:
Crust
∙ 3 tbsp ground flaxseeds
∙ 1/3 cup applesauce
∙ 1/2 cup coconut sugar
∙ 1/3 cup melted coconut oil
∙ 1 1/2 cup gluten free oat flour
∙ 1/2 cup brown rice flour
∙ 3 tbsp tapioca flour

Topping crumble:
∙ 3/4 cup gluten-free oat flour
∙ 1/3 cup brown rice flour
∙ 3 tbsp maple syrup
∙ 2 tbsp melted coconut oil
For the crust, combine the ground flaxseeds, applesauce, coconut sugar, and coconut oil in a bowl. Whisk until uniform.
In another bowl, whisk together the oat flour, brown rice flour, and tapioca flour.
Add the wet ingredients to the dry ones, and stir until you get a uniform soft dough. Refrigerate for 30 minutes.
Preheat the oven to 350F/180C.
Roll the dough out between two sheets of parchment paper, then transfer to a 9-inch pie dish. Using your hands, press the dough evenly into the bottom and sides of the dish. You can use a glass to flatten the bottom. Prick the dough a few times with a fork. Refrigerate until needed.
Fill the crust with your favourite fruit: apples, apricots, bananas, berries, cherries, mangoes, or pears. If you're hesitating which to try first, you can't go wrong with the apple-cinnamon filling:
∙ 8 cups sliced, cored, and peeled apples
∙ 1/2 cup coconut sugar
∙ 2 tbsp potato starch
∙ 1/2 tsp ground cinnamon
∙ 1 tbsp lemon juice

Combine all the filling ingredients until the apples are evenly coated.
Remove the crust from the fridge and layer the apple slices tightly in the pie dish. Top with crumble and bake for 30 minutes until the crust is browned, then cover and cook for 20-30 minutes until the apples are cooked through.
Optionally, you can top it with 1/3 cup coconut whipped cream.
Did you enjoy this gluten-free, dairy-free Dutch Apple Pie? Feel to experiment with other fruit combinations of your choice – surprise your family and guests with healthy desserts for any occasion.