Autumn is the season when most fruits and vegetables are perfectly ripe, delighting us with vibrant colours and flavours. And it's also the time for Halloween parties, costumes, and decorations. The star of this setting is surely the pumpkin – Boo! Are you spooked by the scary-looking Jack-o'-lanterns? You shouldn't be – this gentle giant is amazing for your health!
If you're thinking about preparing something delicious with a pumpkin, you can of course never go wrong with the traditional pumpkin pie. But there is so much more you can do with this  fruit: from simple sweets, like baked pumpkin slices drizzled with raw honey on your lazy days, to sophisticated savoury curries and cream soups for fancy meals. Stay with us to discover the perfect yet simple, surprising, and effortless recipe that will introduce the autumn spirit into your home, bring joy into your life, and support your general health!
It contains plenty of beta-carotene, which becomes an important support for your eyes, skin, immune system, and much more.
Why is pumpkin good for you?
1) High in vitamins and minerals 
It contains plenty of beta-carotene, which – when transformed by the liver into vitamin A – becomes an important support for your eyes, skin, immune system, and much more. Pumpkins also contain all the B's, as well as vitamin C, E, and K.
2) Helps with weight loss
Pumpkins are 90% water. For the rest, they contain lots of fibres that stimulate satiety, improve digestion, and hence, the consumption of smaller portions of food. Besides this, pumpkins are low in calories, with only 26kcal/100g. Just like its close relative – zucchini – a pumpkin's pulp can be grated/pureed and added into the composition of cakes and omelettes, increasing the mass and decreasing the number of calories per portion.
3) Good for the heart, immune system, and helps to prevent the risk of certain cancers
Thanks to the high content of potassium – not less than 340 mg/100g – pumpkins are great for the heart. These fruits also contain immune-boosting properties, which can help the body to defend itself against colds and the flu in the colder season. 
4) All parts are edible
If you want to avoid food waste, pumpkins are the best choice, because the fruit can be entirely consumed. You can make kimchi rolls with the leaves; or, Italian-style stuffed pumpkin flowers; and, if you use small, tender pumpkins, you don't even need to peel them – the skin is also edible! The seeds are loaded with vitamins and minerals, and make a great snack on their own or can be added to different dishes.
5) You can enjoy them for a long time
When stored properly, pumpkins can be stored for up to 3-4 months. Pick healthy ones –  with no scratches or bruises – and store them in a cool, dry place. As the storage temperature should be between 10°C-20°C, a cellar or garage are perfect for this. Once they have been cut open, pumpkins can last for up to 5 days in the fridge.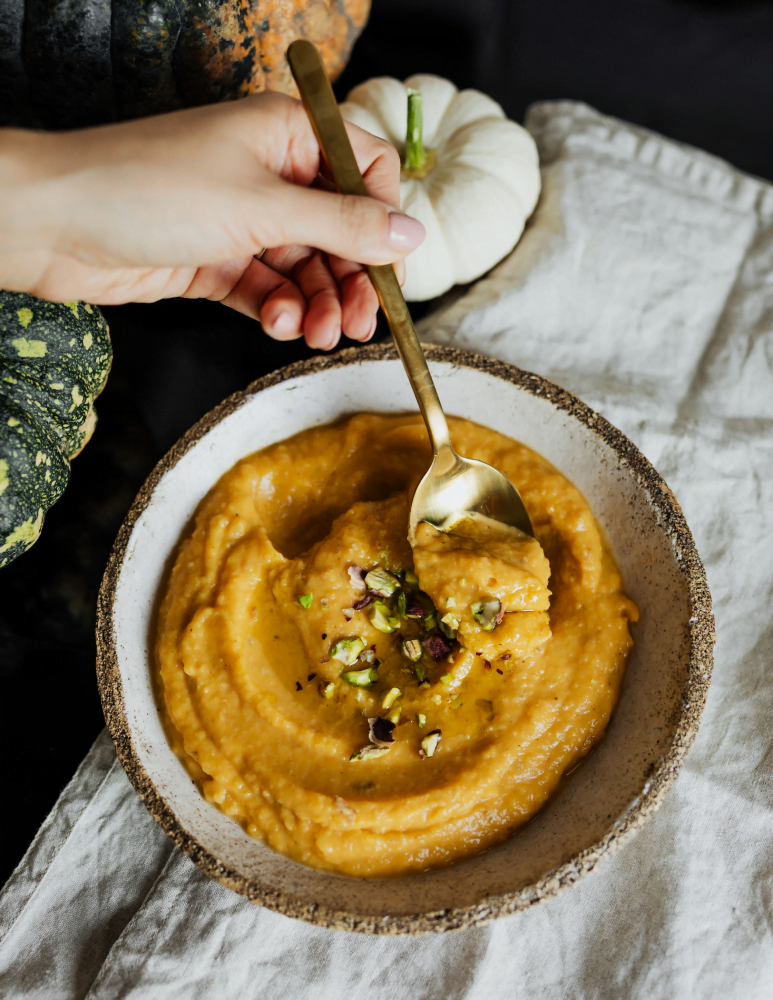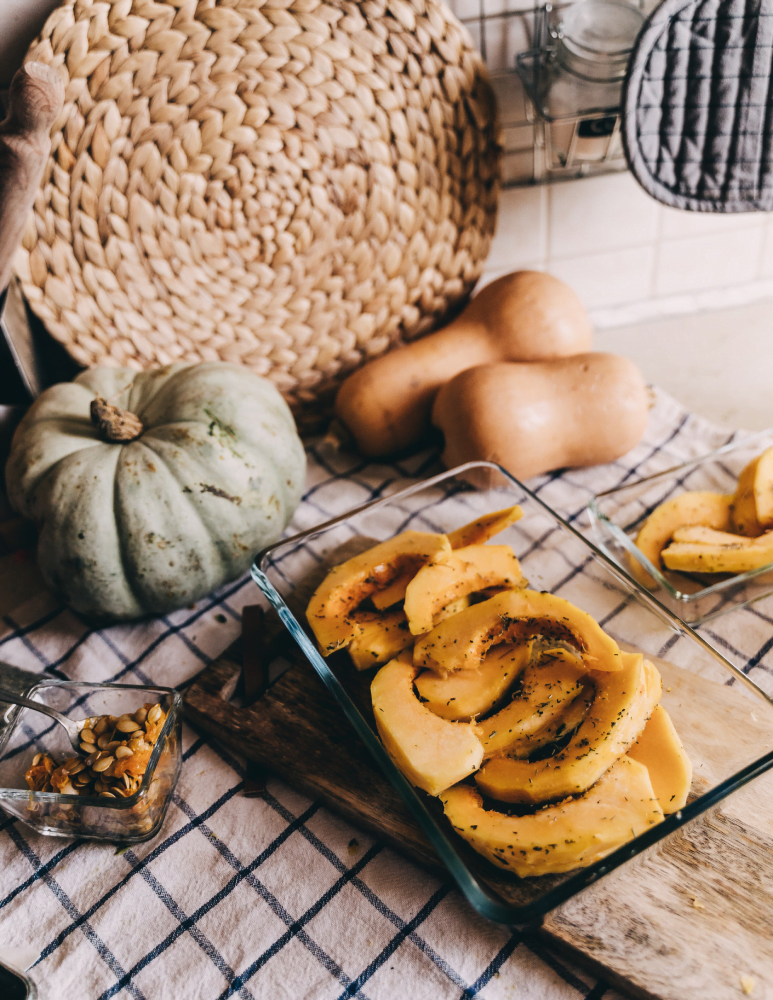 So, if you already have a craving for pumpkin pie after having read this far, we have a trick that will spare you the long preparation time without compromising on the iconic flavours:
Pumpkin Pie Pancakes (Serves 2)
For the pancakes, you need:
・1/2 cup + 1-2 tbsp unsweetened almond milk 
・1/3 cup unsweetened pumpkin puree
・1 cup wholegrain gluten-free oat flour
・3 tbsp coconut sugar (or another healthier sugar option)
・1/2 tsp cinnamon powder
・1/8 tsp nutmeg powder
・1 tsp baking powder
・1/4 cup chopped nuts, for topping (for example pecans, macadamia, or walnuts)
・2-3 tbsp maple syrup or raw honey, for topping
You can top the pancakes with coconut whip:
・One can of coconut cream or full fat coconut milk (approx. 410 ml), chilled in the fridge overnight
・2-3 tbsp raw honey or maple syrup
How to prepare:
Combine the almond milk and pumpkin puree in a small bowl and mix well.
Add the oat flour, coconut sugar, cinnamon, nutmeg, and baking powder to a medium-sized bowl and whisk to combine. Pour the pumpkin puree mixture into the dry mixture and stir until you get an even batter. Add 1-2 tbsp almond milk if necessary – the batter should be thick, but pourable.
Place a non-stick pan on medium-high heat and add a couple spoonfuls of pancake batter. The portions should stay separate so that the pancakes don't stick to each other. Cook for 2-3 minutes on each side, until they turn golden-brown underneath, then flip. Repeat with the rest of the batter. 
For the optional coconut whip, chill a mixing bowl in the freezer for 10 minutes. When the bowl is chilled, add only the thick cream from the top of the can, leaving the coconut water behind. Using a whisk or mixer, beat the cream for a couple of minutes or until you get soft peaks. Add the honey or maple syrup and beat for another 2 minutes. 
Serve the warm pancakes with coconut whip, chopped pecans, and a drizzle of maple syrup. Enjoy!