Whether it's an intimate, traditional get-together with the family, catching up with friends over a cup of hot tea, the excitement of playing Secret Santa, or a fun Christmas or New Year's Eve party in a club with colleagues, we are all looking forward to celebrating winter holidays and to sharing stories, good news, and goodies with others!
Shopping, cleaning, decorating, and cooking – all these take a lot of time and energy. And because the last thing you want is to spend too much time in the kitchen instead of spending quality time with your guests, we have some tips for quick recipes that will not compromise on taste or health.
Holidays are filled with sweet temptations, but there is no need to make any compromises – we have some healthy options for you which are also delicious.
Festive holidays buffet 
When it comes to preparing a festive buffet that is both healthy and delicious, it is important to take some time to plan ahead. By doing so, you can save yourself a lot of time and energy in the kitchen. One way to do this is to choose recipes that can be made ahead of time and that will still taste great when served at room temperature or cold. This way, you won't have to spend time cooking everything right before your guests arrive. Some great make-ahead options for your buffet table include: roasted vegetables, quinoa salads, grain bowls, veggie-packed wraps, and fruit platters.
Don't forget about the power of presentation! A healthy Christmas or New Year's buffet table can be just as festive (and tasty) as one loaded with unhealthy foods. So, take the time to arrange your food in an attractive way, using colourful plates and bowls, fun serving utensils, and festive decorations. Your guests will be impressed – and they'll definitely appreciate the healthy options! 
Here are some recommendations for your special festive buffet:
✮ Medical Medium's Caramel Apple Rings ✮
Holidays are filled with sweet temptations, but there is no need to make any compromises – we have some healthy options for you which are also delicious.
The caramel apple rings are the perfect fun solution for a quick guilt-free snack. And because apples are widely available, they're a perfect breakfast idea for kids and adults alike all year round, not only at Christmas. Try using different toppings and let everyone decorate the caramel apple rings with their own favourite choices! Try coconut flakes to resemble snow or the classic cinnamon!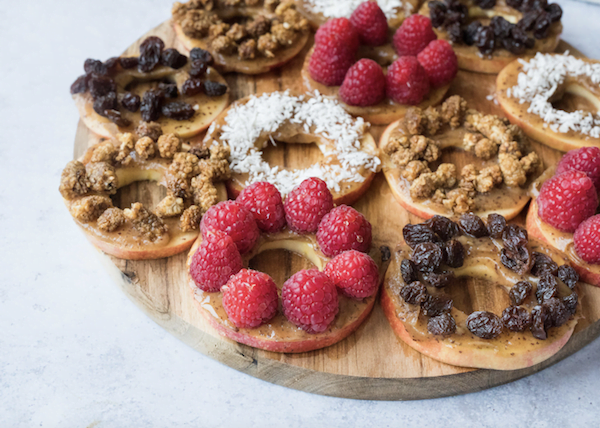 For 4 servings of apple rings, you need:
∙ 1 lemon, juiced, divided
∙ 3 red apples
∙ 1 cup Medjool dates, pitted
∙ 1 inch vanilla bean (optional)
∙ ½ cup water
Suggested toppings to make your apple rings extra fun:
∙ 1 cup raspberries
∙ ¼ cup raisins
∙ ¼ cup dried mulberries
∙ ¼ cup shredded coconut
∙ 2 tablespoons raw honey
 

 

 

View this post on Instagram

 

 
How to prepare them:
▻ Pour half of the lemon juice into a large bowl of cold water. Slice each apple sideways into slices about 1/4 inches thick. Punch the core out of the centre of each apple slice with a cookie cutter or bottle cap. To prevent browning, place the rings in lemon water immediately.
▻ Blend the dates, vanilla bean, ½ cup water, and remaining lemon juice together until they turn into a thick, smooth "caramel".
▻ Remove the apple rings from the water. Spread caramel along the top of each ring and add any desired toppings!
✮ Exotic Bliss Balls ✮
We love the Biotta juices – not only as nutritious refreshments, but also as ingredients for desserts! These vegan, lactose free chocolate balls are a great Christmas or New Year's Eve treat.
For 10 portions, you need:
∙ 8 Medjool dates, pitted and chopped into pieces
∙ 120 g almonds, ground
∙ 40 g coconut flakes
∙ 60 g coconut or almond purée
∙ ¼ tsp Bourbon vanilla
∙ 4 cl Biotta Mango juice
∙ 1 tbsp Biotta essence of ginger
∙ 1 pinch sea salt
∙ ¼ tsp vanilla
Topping:
∙ Coconut flakes
∙ Dried mango, finely chopped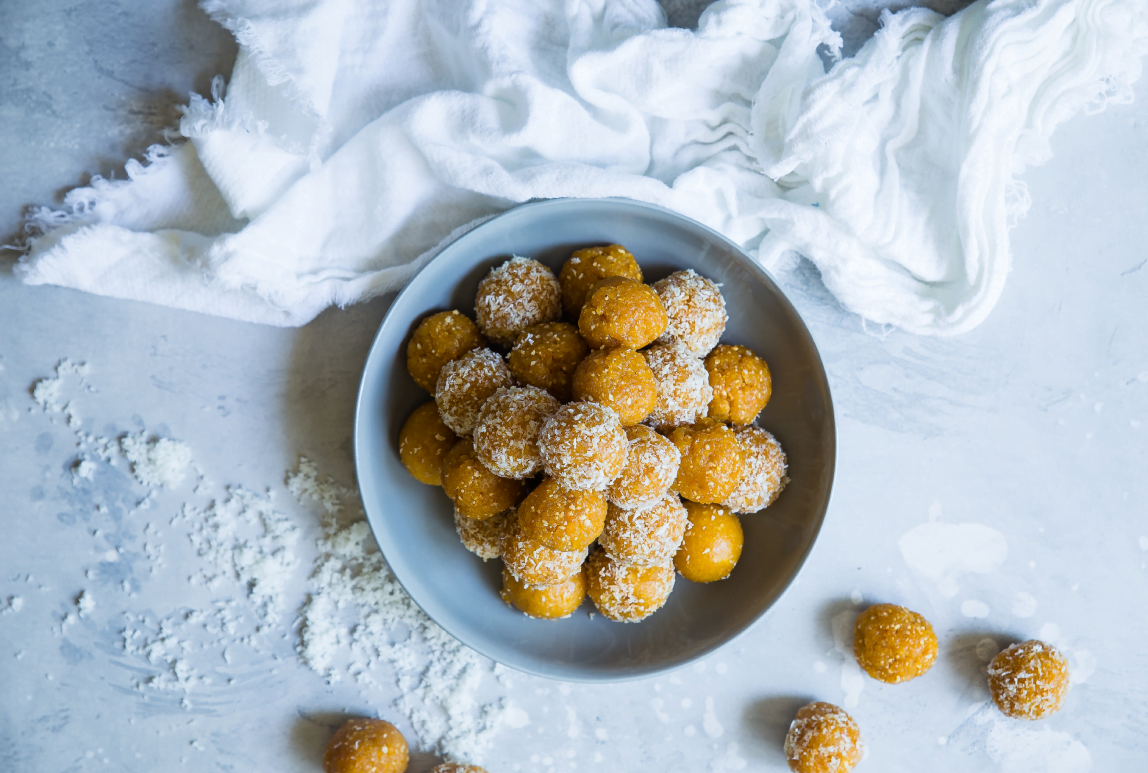 How to prepare them:
▻ Blend or process the dates in a high-powered blender. Blend the remaining ingredients, up to and including the cocoa powder, until uniform. Add the chocolate pieces and mix again briefly.
Cover the mixture and place in the fridge for between 30 and 60 minutes to set. Form equally sized balls. Place in the fridge again whilst melting the chocolate. Pour the liquid chocolate over the bites and sprinkle the dried flowers on top to decorate.
The bites are perfect to be prepared in advance for Christmas or New Year's Eve parties and will keep in the fridge for 7–10 days.
✮ Berry Virgin Mojito ✮
The buffet wouldn't be complete without festive drinks! This delicious non-alcoholic cocktail – enriched with Biotta Wild Bilberry juice – is ready in 5 minutes!
For 1 glass of Berry Vir­gin Mo­jito, you need:
∙ 8 mint leaves
∙ 10 blueberries
∙ 1.5 dl Biotta Wild Bilberry juice
∙ 2 tbsp maple syrup or elderberry syrup
∙ ¼ lime
∙ Crushed Ice
Topping:
∙ Fresh mint leaves or rosemary leaves
∙ Bilberries
∙ Straw
∙ Edible flowers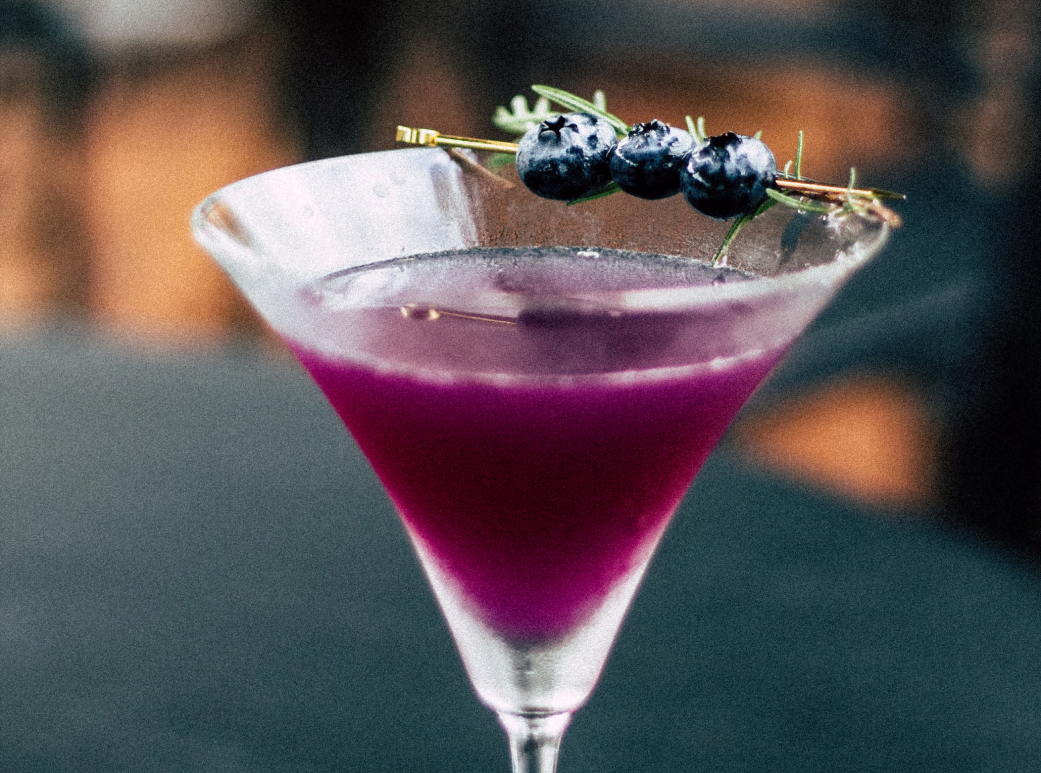 How to prepare it:
▻ Mash the mint, blueberries, and lime (cut into small pieces) in a glass.
▻ Add the blueberry juice and maple syrup, and mix well.
▻ Serve in a glass with the crushed ice and toppings.
We hope you will enjoy sharing your goodness with your dear ones, and we wish you peace and joy this holiday season!