Are you looking for tips to help you deal with the record high temperatures? How about some fun, fruity recipes that are not only refreshing, but also healthy?
If this sounds tempting to you, have a look at these surprising ways to use fresh fruits and super foods in summer recipes. Avoid sugar traps and stay energised, hydrated, joyful, and healthy!
Watermelon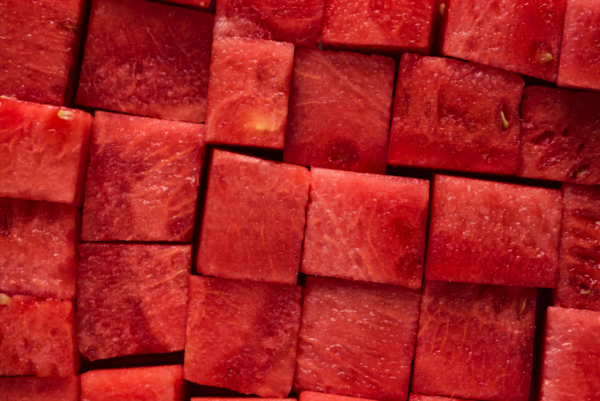 This ultimate summer fruit contains 92% water, as well as nutrients such as magnesium, potassium, and vitamins A, B6, and C. A fresh slice of watermelon is also a guilt-free way to satisfy your sweet tooth, as it actually helps to keep blood sugar balanced! Combine it with lime, mint, or aloe and enjoy it in various refreshments. Have a look at our favourites:
1) Watermelon Granita
・6-7 cups chopped watermelon
・1/4 cups lime juice
・1/2 tbsp lime zest
・Raw honey to taste (optional)
Blend the watermelon, lime juice, lime zest, and maple syrup/honey until smooth. Freeze for at least 2 hours, then stir with a fork every 30 minutes to break the ice crystals, until you get a crunchy, slush-like texture.
2) Aloe Watermelon Slushy
・2 cups frozen seedless watermelon
・2-4 tbsp aloe
・1/2 cup strawberries (fresh or frozen)
・1 tbsp lime juice
Blend all ingredients until smooth and serve immediately
3) Watermelon Refresher
・4 cups cold watermelon
・1/4 cup fresh mint
・juice from 1-2 limes
Add all ingredients to a blender and blend on high speed for 1 minute. Strain juice and enjoy!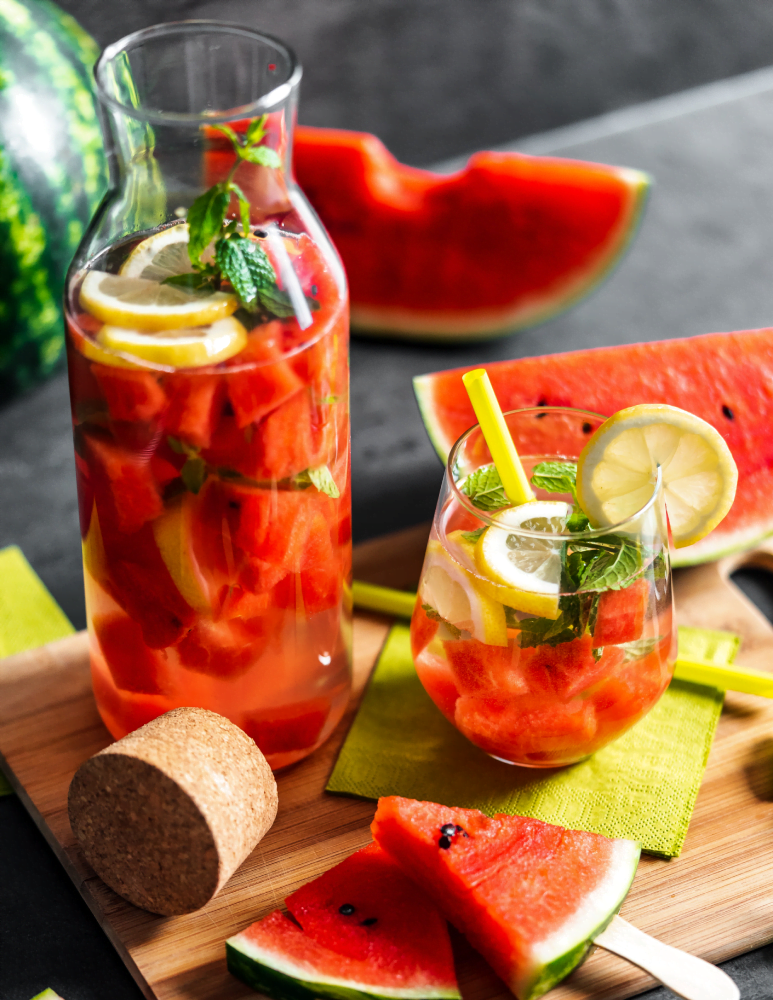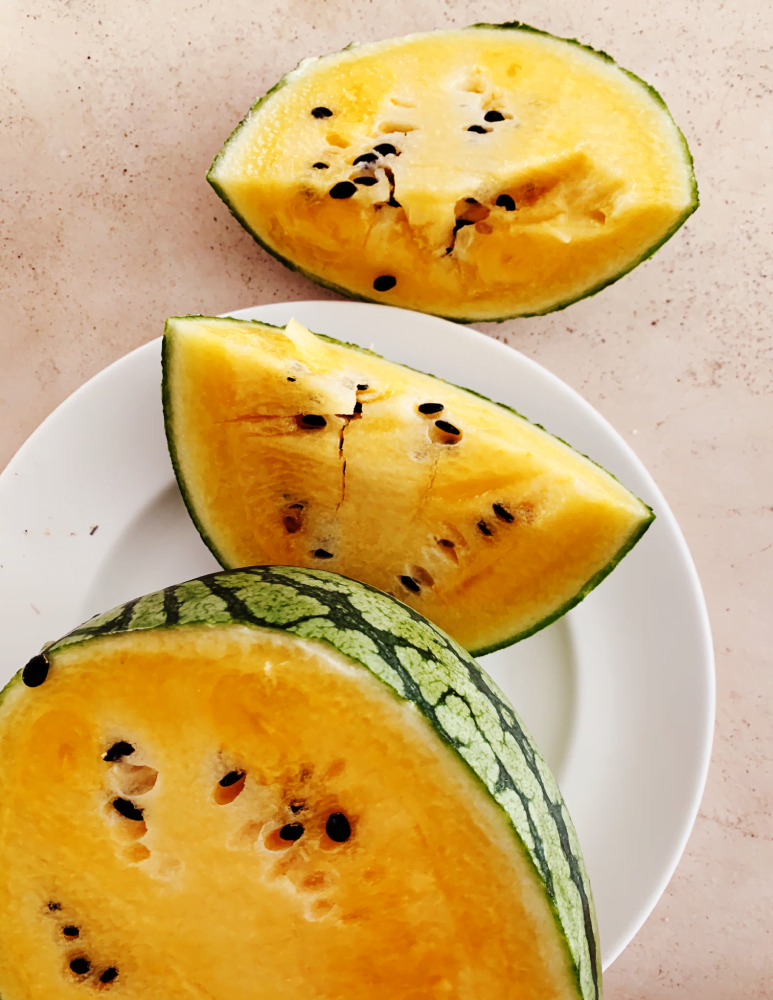 If we have stirred your appetite and you are curious about using other summer fruits, you should also try fruit popsicles! Mix together freshly squeezed fruits and natural juices, then pour them into popsicle moulds. Store them in the freezer until the pops become solid, and enjoy them on warm days!
Looking for inspiration? These exciting combinations will help you decrease heat discomfort while increasing your wellness – fun, refreshing, and incredibly easy to make!
1) Wild Blueberry & Orange Popsicles
・1 cup wild blueberry juice
・1 cup orange juice or pineapple juice
・raw honey or maple syrup to taste
Pour the mix into popsicle moulds and add popsicle sticks, then let it freeze overnight.
Tip: Enhance the antioxidant properties of this recipe with Wild blueberry powder.
2) Apple Pie Flavour Popsicles
・2 cups apple juice
・1/2 tsp ground cinnamon
・1/4 tsp ground cardamom
・1/8 tsp ground cloves
・1/8 tsp ground nutmeg
・1/4 cup raw honey, to taste
Mix all ingredients and let them infuse for a couple of hours before pouring the mix into a mould, and placing it in the freezer.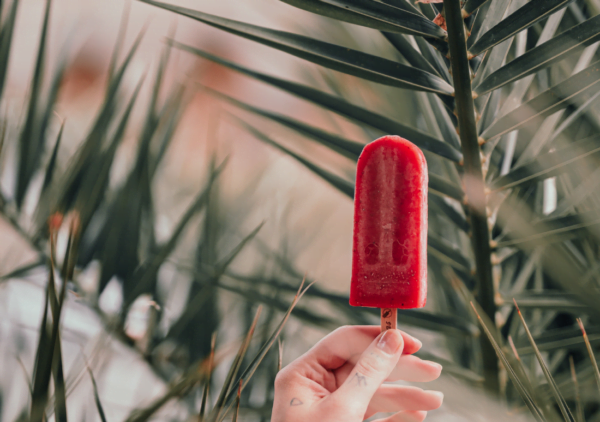 3) Lemon Balm Popsicles
・1/3 cup fresh lemon balm or 2 tbsp dried
・1 inch ginger, finely sliced (optional)
・2 1/2 cups water
・1/3 cup lemon juice (optional)
・1/3 cup raw honey
Place the ginger, lemon balm, and water in a small saucepan and bring to a simmer. Turn the heat off and let it cool completely. Drain the mix, then stir in the lemon juice and raw honey. Pour into popsicle moulds and set in the freezer overnight.
Tip: In addition to fresh lemon balm, you can also use 1 dropperful Lemon Balm liquid extract/portion for extra health benefits.
4) Strawberry Banana Pops
・2 ripe bananas
・2 cups strawberries (fresh or frozen)
・1/2 cup orange or pineapple juice
Blend all the ingredients together until smooth. Pour into popsicle moulds, add popsicle sticks and let it freeze overnight.
5) Peach Popsicles
・2 cups peach juice or 6 large peaches, pitted
・1/3 cup chopped peaches
Juice the peaches or blend them until smooth, adding a bit of water if necessary. Divide the chopped peaches between popsicle moulds or containers and fill with the juice.
Insert a stick into each popsicle. Freeze until solid.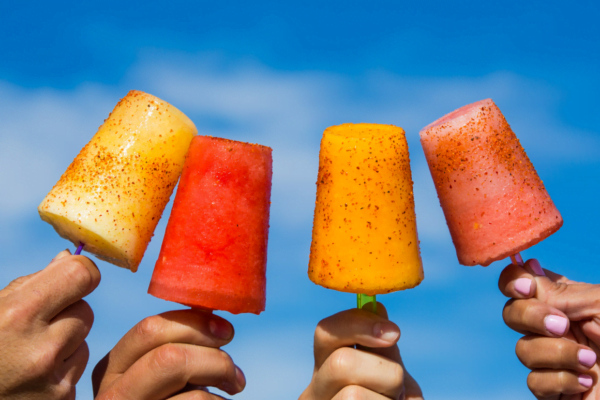 Here are our general guidelines for original combinations using other fruit combinations of your choice:
– Use seasonal fruits that are grown ecologically, without added chemicals and purchase them from reliable local farmers or producers.
– Avoid added sugar, saturated fats, and artificial food colours – use the natural sweetness of fruits, healthy fats, and natural food dyes instead.
–  Boost the effectiveness of your recipe by adding pure and clean powder or liquid supplements, which are flavourful as well as healthy.
– Don't hesitate to use hot spices – contrary to common belief, they actually help cool your body temperature!
– Extract the maximum amount of nutrients, vitamins, taste, and juice from your fruits with the Omega Juicer.
Have a look at Medical Medium's recipes page to discover amazing summer recipes and to find out more about the benefits of each carefully selected ingredient.