Veggie-based comfort foods are an excellent alternative to traditional comfort foods that are often high in unhealthy fats, sugars, and processed ingredients. They are therefore not only delicious, but can also provide a balance of nutrients and better digestion, as well as support overall health and well-being.
We've reinterpreted 3 amazing recipes inspired by the Medical Medium's Brain Saver book for you. Read below for all you need to create impressive feasts for yourself, your family, and friends!
Vegetarian Shepherd's Pie
This version of the Shepherd's Pie is a plant-based and healthy twist on a classic comfort food. The lentils and mushrooms provide a good source of protein and fibre, while the sweet potato and the butternut squash add a touch of sweetness and vitamins. The combination of herbs and spices gives the dish a flavourful and aromatic taste. 
Ingredients for the filling:
∙ 1 onion, chopped
∙ 4 garlic cloves, minced
∙ 2-3 cups celery stalks, chopped
∙ 1 large sweet potato, diced
∙ 3 cups butternut squash, diced
∙ 700g fresh mushroom mix (button mushrooms, wild mushrooms, etc.)
∙ ½ cup frozen peas 
∙ ½ cup dried green or yellow lentils
∙ 4 cups home-made or organic vegetable broth
∙ 3 tablespoons home-made or organic tomato paste
∙ 3 tablespoons herbs mix using your favourite dried or fresh herbs (choose from thyme, rosemary, oregano, basil, ground pepper, nutmeg, paprika, and onion powder)
∙ Salt and pepper to taste
∙ Extra fresh herbs to garnish
Ingredients for the topping:
∙ 1.5 kg mashed potatoes
∙ A pinch of white pepper (optional)
∙ Salt to taste
∙ A couple of tablespoons unsweetened plant-based milk, if necessary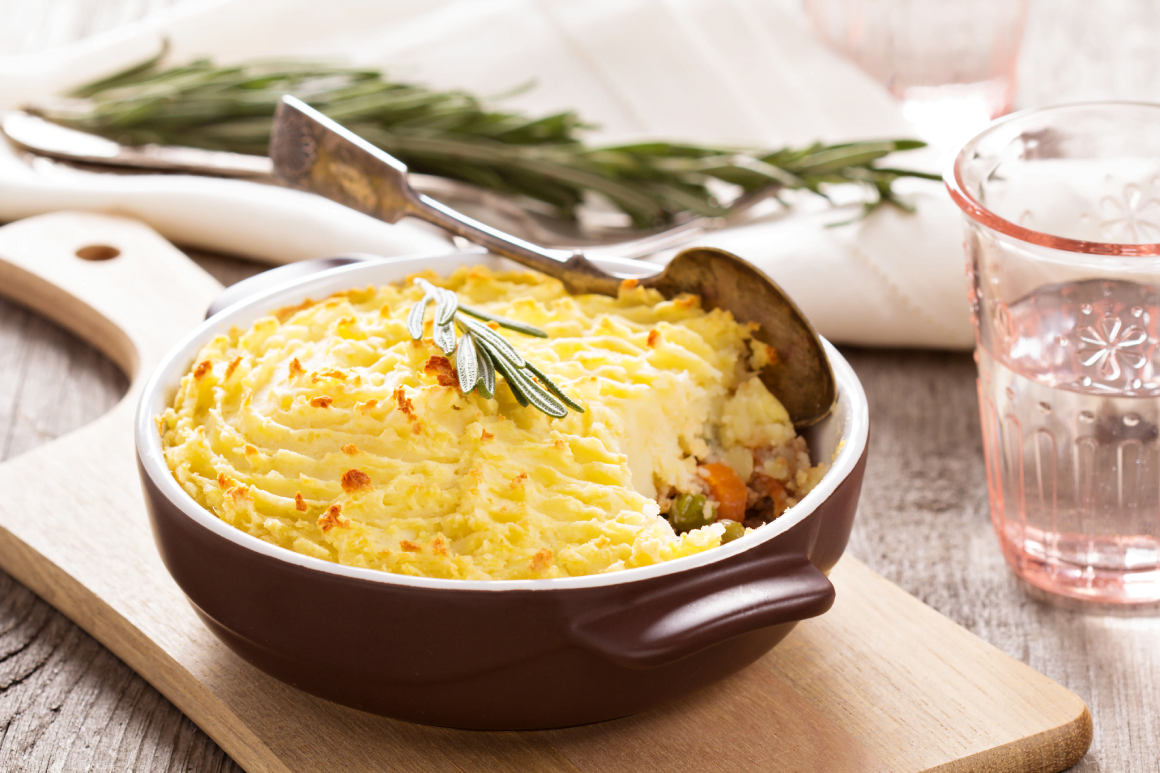 How to prepare:
1. Preheat the oven to 200°C.
2. Rinse and drain the lentils, then place them in a large saucepan with the vegetable broth. Bring to a boil, reduce the heat, and let simmer for 25-30 minutes until the lentils are tender and the broth is mostly absorbed.
3. While the lentils are cooking, heat the olive oil in a large skillet over medium-high heat. Add the chopped onions, garlic, sweet potato, butternut squash, frozen peas, and celery, and sauté for 10-12 minutes until the vegetables are tender and lightly browned.
4. Add the tomato paste and the herbs to the skillet, and stir well to combine. Cook for another 2-3 minutes until the mixture is fragrant.
5. Once the lentils are cooked, stir them into the skillet with the vegetable mixture, and mix well.
6. Once the lentils are well incorporated, transfer the whole vegetable mixture to a large baking dish, and mix the mashed potatoes with salt and (white) pepper and spread on top in an even layer.
7. Bake the plant-based shepherd's pie in the preheated oven for 25-30 minutes until the sweet potatoes are lightly browned and the filling is hot and bubbly.
8. Let the shepherd's pie cool for a few minutes before portioning and serving. Enjoy!
Brain-boosting Empanadas
With surprising exotic flavours, these plant-based empanadas are a healthy and nutrient-dense alternative that can provide a range of health benefits such as reducing inflammation, promoting healthy digestion and cognitive functions, and supporting overall well-being.
Ingredients for the crust:
∙ 1kg steamed potatoes, mashed
∙ 1.5 – 2 cups potato starch
∙ Salt to taste
∙ Dried parsley or cilantro (coriander)
Ingredients for the filling:
∙ 2 medium-sized onions, chopped
∙ ⅓ cup red bell pepper
∙ ⅓ cup yellow bell pepper
∙ ⅓ cup green bell pepper
∙ 10 cherry tomatoes, chopped
∙ ½ cup boiled chickpeas (optional)
∙ 1 tsp ground cumin or curry powder
∙ 1 tsp paprika powder (or mix sweet paprika and hot paprika, to taste)
∙ 3 minced garlic cloves
∙ 2 tablespoons fresh cilantro (coriander) or parsley
∙ 1 tablespoon lime juice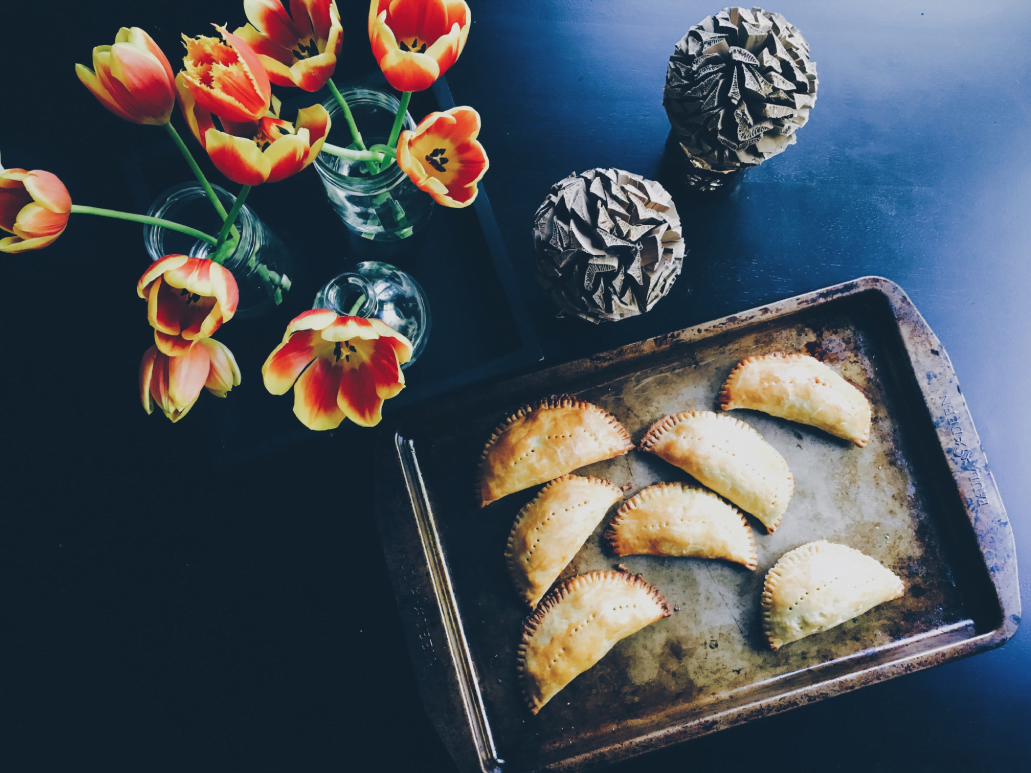 How to prepare:
1. Add the onions, garlic, and peppers to a skillet and cook for a couple of minutes until soft.
2. Add the boiled chickpeas, spices, and tomatoes – cook for another 6-8 minutes.
3. Add the lime juice and the parsley (or cilantro) at the end, turn off the heat and let the filling rest.
4. Steam the potatoes and mash them. Let them cool until they are safe to knead by hand, then add salt and dried herbs. Add the potato starch gradually until you get a soft, non-sticky dough.
5. Preheat the oven to 200°C.
6. To assemble the empanadas, dust your hands and the work surface with potato starch, so that the dough doesn't stick.
7. Cut out circles from the 0.5cm high rolled-out dough using a round cookie cutter or the rim of a small plate. The size of the circles will depend on the size of empanadas you want to make, for eg. 10 cm in diameter.
8. Place 1.5-2 spoonfuls of filling in the centre of each circle of dough. Do not overfill as it may cause the empanadas to burst open during cooking.
9. Fold the dough over the filling. Use your fingers or a fork to press or crimp the edges of the dough together and seal the empanada. Make sure the edges are sealed tightly to prevent the filling from leaking out.
10. Bake the empanadas for 25-30 minutes, or until golden brown
11. Empanadas can be served warm or at room temperature. Enjoy them simply or with your favourite dipping sauce.
Sweet-Savoury Veggie Skewers
This recipe includes a variety of antioxidant-rich ingredients, such as sweet potato, bell pepper, pineapple, and red onion. Antioxidants can help to protect your cells from damage caused by harmful molecules known as free radicals.
Ingredients:
∙ 500g small mushrooms, or bigger mushrooms cut in half/quarters
∙ 1 large sweet potato, peeled and cut into chunks
∙ 1 cup fresh pineapple chunks
∙ 1 red bell pepper, seeded and cut into chunks
∙ 1 green bell pepper, seeded and cut into chunks
∙ 1 yellow onion, peeled and cut into chunks
∙ 1 red onion, peeled and cut into chunks
▻ Feel free to include or remove any ingredients you want.
Marinade: 
∙ 2 tbsp olive oil
∙ ½ cup orange juice
∙ 3 tbsp lemon juice
∙ 2 tbsp pure maple syrup
∙ 1 tsp paprika
∙ 1 tsp ground cinnamon
∙ 1 tsp garlic powder
∙ 1 tsp sea salt
∙ A pinch of ground pepper
∙ A pinch of cumin
∙ 10-12 wooden skewers
How to prepare:
1. Preheat the grill to medium-high heat.
2. Soak the wooden skewers in water for at least 30 minutes before grilling.
3. In a small bowl, whisk together the olive oil, lemon and orange juices, and the spices.
4. Add the vegetables to the olive oil spice mixture – be sure to cover every piece in the marinade, and let marinate for a couple of hours.
5. Thread the chunks of mushroom, sweet potato, pineapple, bell pepper, and onion on the skewers, alternating between the ingredients.
6. Grill the vegetable skewers for about 10-12 minutes, turning occasionally until the vegetables are tender and slightly charred.
Whenever you are craving comfort foods, let yourself be inspired by these healthy options!