It's time to enjoy the vibrant essence of summer with a variety of nutritious food alternatives that will satisfy your cravings and nourish your body. From fresh salads to refreshing sorbets, we've got the perfect tips for every meal of the day. Improve your eating habits over these hot months and feel light, energised, and satisfied.
Especially for you, we've selected 3 of our favourite recipes – inspired by Medical Medium's Brain Saver book. Why do we love them? They require minimum preparation and offer maximum nutrition and flavour!
✤ Potato and cherry tomato salad ✤
Fresh, light, and filling – this main course salad makes a perfect lunch or dinner. Mix your favourite herbs for an abundance of flavours, and combine them with juicy cherry tomatoes, greens for texture, and filling potatoes. Here are the ingredients and detailed preparation steps:
Ingredients:
∙500g new potatoes, cubed
∙ a handful of green beans
∙ a bunch of asparagus
∙ mix of fresh herbs, chopped (for example: parsley, basil, thyme)
∙ mix of leafy greens, chopped (for example: lettuce, iceberg, spinach, arugula, dandelion leaves, lamb's lettuce, Swiss chard)
∙ 150g cherry tomatoes, cut in half
∙50g pitted olives
Dressing:
∙ 3 tablespoons lemon or lime juice
∙ 1 tablespoon raw honey or maple syrup
∙ 2 tablespoons finely chopped green onion
How to prepare:
▻Trim off the hard ends of the asparagus and beans. Peel and cut the potatoes into approximately 2 cm chunks.
▻ Steam the vegetables until tender, as follows:
– New potatoes 18 to 25 min 
– Asparagus 5 to 10 min
– Green beans 4 to 7 min
You can steam the vegetables all together, or do each on its own. In any case, check from time to time to see if they are done.
▻ Wait for the veggies to cool and arrange them together with the rest of the ingredients in a salad bowl, drizzle the dressing over the mix, stir and serve.
✤ Veggie tacos with a twist ✤
Tacos are easy to eat on the go on a busy day, but also fun to share with others at a party. What's also great about them is that the variety of possible fillings and combinations makes them extremely versatile and, of course, delicious! You will surely enjoy our interpretation of this popular Mexican-inspired dish:
Ingredients for 4 soft taco shells:
∙ 400g chopped potatoes
∙ 1 teaspoon garlic powder
∙ 1 teaspoon onion powder
∙ 1 teaspoon pure maple syrup
Filling:
∙ 250g chickpeas, boiled 
∙ 12 cherry tomatoes, cut in quarters
∙ 1 bunch fresh cilantro, finely chopped
∙ 100g sliced red and green bell peppers
∙ 1 ripe avocado, sliced
∙ 1 small red onion, sliced
∙ 2 teaspoons taco seasoning (mix of chilli powder, ground cumin, sea salt, ground pepper, paprika, garlic powder, onion powder, dried oregano)
∙ 2 teaspoons lime juice
∙ 1 teaspoon finely chopped hot pepper (optional)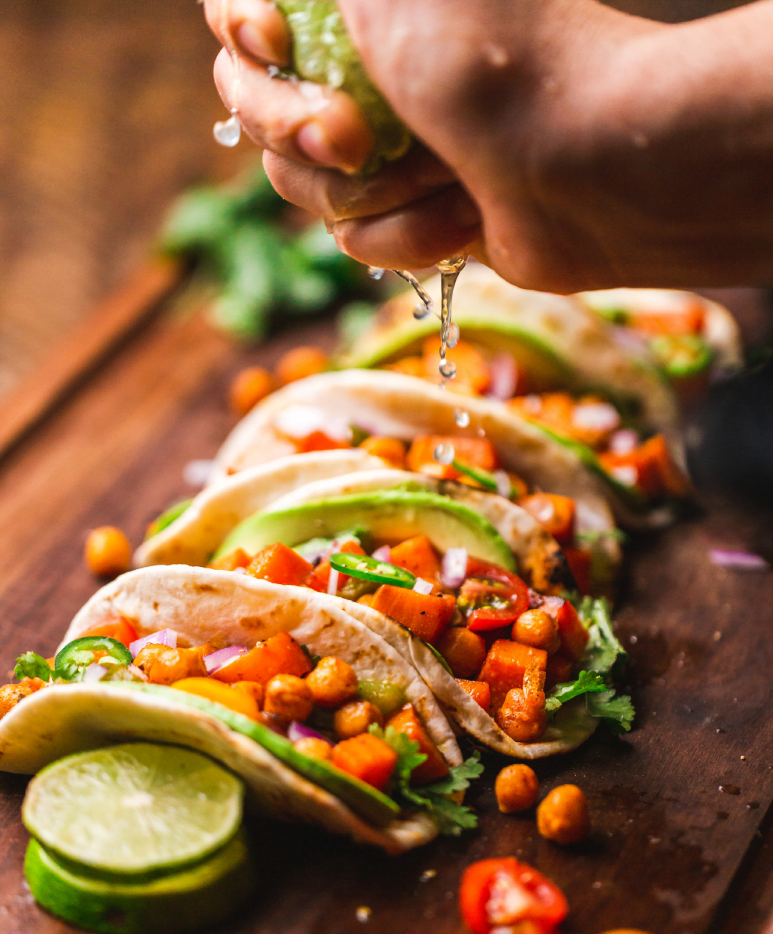 How to prepare:
▻ Preheat the oven to 200°C. 
▻ Steam the potatoes for 20-25 minutes until soft. Blend them in a food processor with the garlic powder, onion powder, and maple syrup.
▻ Spread the mixture on a baking sheet lined with parchment paper, forming 4 circles.
▻ Bake them in the oven for 15-20 minutes until lightly browned. Let them cool and flip the parchment paper over, then gently peel them off the paper. Set the taco shells aside.
▻ For the filling, mix all the ingredients together and add the taco seasoning. 
▻ Divide the filling over the 4 shells, making sure each shell contains equal parts of the main ingredients (avocado, tomatoes, chickpeas, etc.). Enjoy!
Tip: Roast the cooked chickpeas in the oven or pan until crispy
✤ Wild blueberry ice cream ✤
This dessert is also a great snack for when you are a little hungry; or for your breakfast on a hot summer day. It contains only healthy ingredients – plus, it's refreshing and creamy! Add chopped nuts on top for extra crunch and a boost of energy.
Ingredients:
∙ 600g wild blueberries, frozen
∙ 2 tablespoons lemon juice
∙ 2-3 fresh mint leaves
∙ ½ teaspoon organic lemon zest
∙ 100g raw honey or maple syrup
∙ 2-3 tablespoons coconut milk 
Topping:
∙ mixed nuts, chopped (walnuts, cashew, hazelnuts)
∙ dried fruits (coconut flakes, raspberry, cranberry)
∙ sugar-free oats
How to prepare:
▻ Add the frozen blueberries, lemon juice, mint leaves, lemon zest, coconut milk, and half of the honey to a blender.
▻ Blend until smooth, and gradually add the honey until it's sweet enough.
▻ Serve the ice cream topped with nuts, dried fruits, and oats. 
Tip: Turn your ice-cream into a fat-free sorbet by omitting the coconut milk.